Journal of Artists' Books n°37
ÉDITIONS INCERTAIN SENS / CABINET DU LIVRE D'ARTISTE
ART . BOOKS . PUBLISHING . RESEARCH . LIBRARY . NETWORK
Marie Boivent, Pascale Borrel, Denis Briand, Leszek Brogowski, Laurence Corbel, Bruno Di Rosa, Peter Downsbrough, Jérôme Dupeyrat, & Il Topo, Pascal Le Coq, Lefevre Jean Claude, Stéphane Le Mercier, Laurent Marissal, Anne Mœglin-Delcroix, Aurélie Noury, Hubert Renard, Marie-Ange Pena, Taroop & Glabel, Mathieu Tremblin, Christophe Viart, Bernard Villers, Éric Watier

JAB37 was offset printed on the Heidelberg GTO52 (eine farben) at the Center for Book and Paper Arts, Columbia College Chicago by Mary Clare Butler and Woody Leslie under the supervision of Brad Freeman. Butler and Leslie are Print Production Fellows and graduate students in the Interdisciplinary Book and Paper Arts MFA. Butler designed the layout, and meticulously fixed all the crazy pdfs. The body text is set in Harriet, and the headlines are set in Cholla. The paper is Mohawk Superfine ultrawhite smooth 28 lb. writing for the text, and 80 lb. for the cover. Cover design by Peter Downsbrough. Thanks as always to our intrepid webmaster Kathi Beste.

64 pages, agrafées, impression couleur et noir & blanc, 28 x 21,5 cm.
Traduit du français par Russel Richardson, avril 2015, ISSN 1085-1461, 18€.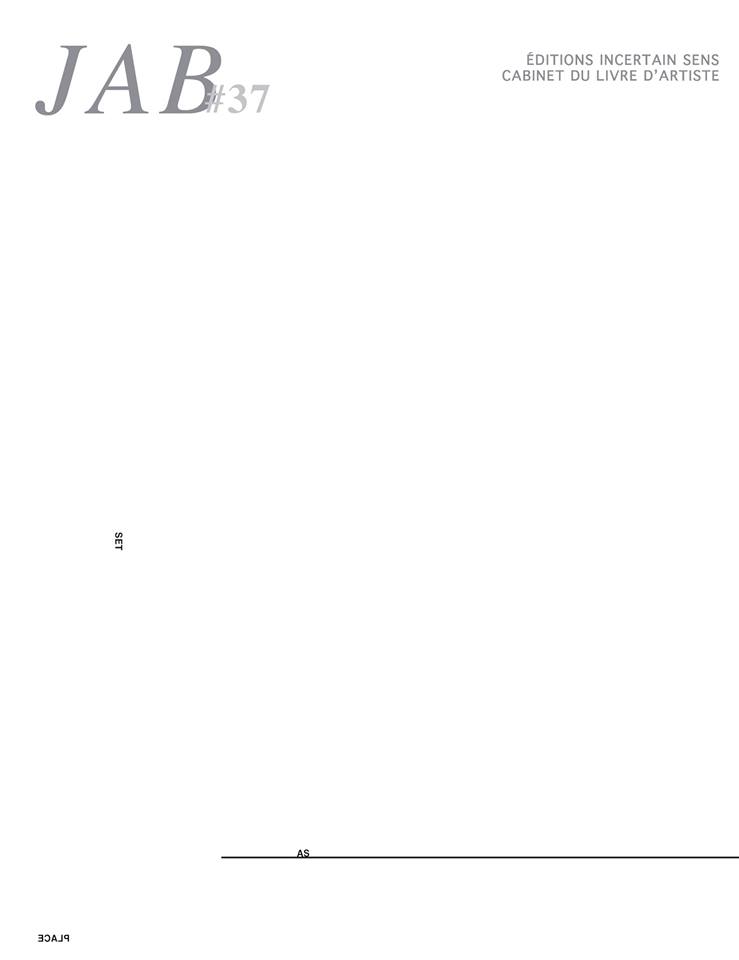 Le n°37 de la revue américaine Journal of Artists' Books est entièrement consacré au Cabinet du livre d'artiste et aux Éditions Incertain Sens. C'est sous six grandes rubriques : Art / Livres / Édition / Recherche / Bibliothèque / Réseau, que nous avons choisi d'aborder l'histoire de nos activités, en invitant des théoriciens dont les objets de recherches sont proches des nôtres, comme Anne Mœglin-Delcroix, Marie Boivent ou Jérôme Dupeyrat. Dans le même temps, les pages de la revue sont jalonnées de contributions d'artistes avec lesquels nous avons collaboré, comme Peter Downsbrough qui a pris en charge la couverture, Bernard Villers, dont le livret Left Right est glissé dans le numéro, ou Éric Watier, Lefevre Jean Claude, Taroop&Glabel, Mathieu Tremblin, etc, intervenant sous forme d'inserts rythmant le fil de la lecture.


SOMMAIRE
Cover : Peter Downsbrough*
ART
- Anne Mœglin-Delcroix, Remakes, regresses, (re)prints
- Pascal Le Coq, Teamwork*
- What the Artist's Book Makes Us Rethink About Esthetic Theory, an interview between Hubert Renard and Leszek Brogowski
- Lefevre Jean Claude, Notebook #51, Last Notation*
- Catalogue Incertain Sens & Sans niveau ni mètre
BOOKS
- Pascale Borrel, Through the text…
- Christophe Viart, Le Double *
- Denis Briand, There May Be No Reason to Believe That the Artist's Book Exists
- Aurélie Noury, The Reprint Within les Éditions Incertain Sens
PUBLISHING
- Jérôme Dupeyrat, Publishing Art
- & Il Topo, The Topism Manifest *
RESEARCH
- Laurence Corbel, Design, Publish, and Display: the Triptych for University Research Into Artist's Books
- Taroop & Glabel, Second Hand Stores…*
- Marie Boivent, 'For Here, or to Go': the Cabinet du livre d'artiste, Exhibitions and Journal
- Éric Watier, The Easier it is, the More Beautiful it is (Introduction to the Most Beautiful Exhibition in the World)*
LIBRARY
-Stéphane Le Mercier, Excluded from Loans
- Mathieu Tremblin, Open-Air Library *
- Aurélie Noury, The Collection of the Cabinet du livre d'artiste (visual : Marie-Ange Pena)
- Bruno Di Rosa, Note
- Laurent Marissal Painterman, Only the sea? *

NETWORK
- Leszek Brogowski, The Gift, The Network and Reciprocity in Artist 'Books
- Woody Leslie, Documenting Documenting
- Doro Boehme, Book Review for JAB
- Mary Clare Butler & Woody Leslie, Books Received

Booklet : Bernard Villers, Left Right *
*intervention d'artiste